Completed Models
Welcome to our gallery of completed model cars. Submit Your Photo using the Disqus Comments section below.
Here are some photos of the finished 1/24 scale Porsche Carrera GT Model Kit made by Tamiya Models. Tamiya makes very accurate models with parts that fit really well, requiring very little filler.
There is also no excess molding material (flash) to be removed, and no defects in the mold. The panel lines are also realistically thin and recessed (not raised as in some older kits). These kits are truly a joy to build: the model is as well-engineered as the real car. The engine, interior, and suspension are built from many parts to enhance the realism and allow for really easy painting of the fine details.
The model was placed in a photo booth made of foam board and lit with four (4) Compact Fluorescent lights. The car was then photographed with a Canon Powershot digital camera in manual mode. The expoure was set for Fluorescent lights, and the camera was placed on a tripod to eliminate any hand shake. A low camera angle works best for model cars.
Below: Fully assembled 1/24 scale Porsche Carrera GT model car from Tamiya.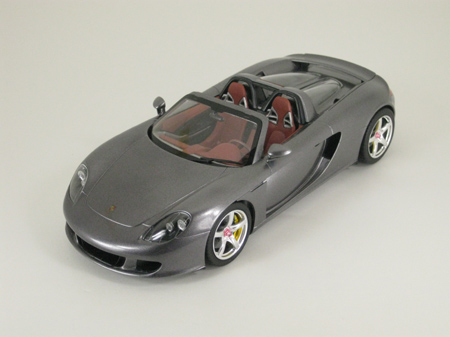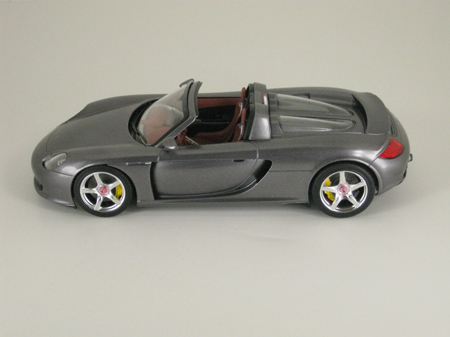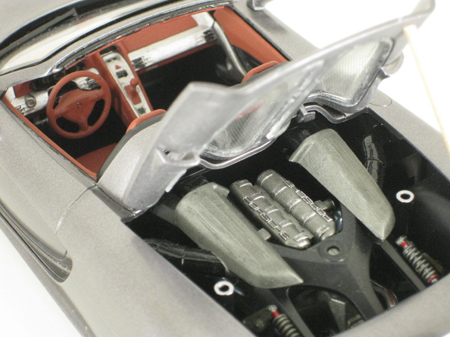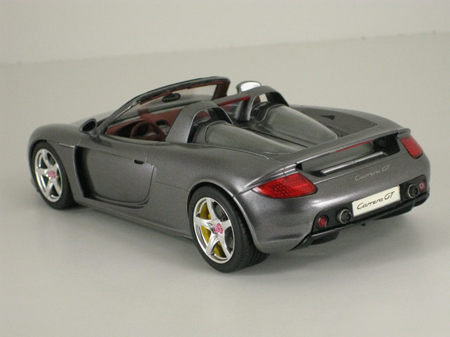 Below: 1/24 scale Aston Martin DBS from Tamiya.
Reader Tom writes "I have been doing model cars for a long time the wrong way! I recently stumbled upon your site through youtube and I have used many of your techniques in completing my latest model (a 1/24th scale aston martin dbS) and it turned out great! I still have some techniques that I have to improve on, but overall I am super proud of it! I just wanted to say thank you for the help!"
Tom, we agree, the DBS turned out great! Nice glossy paint job.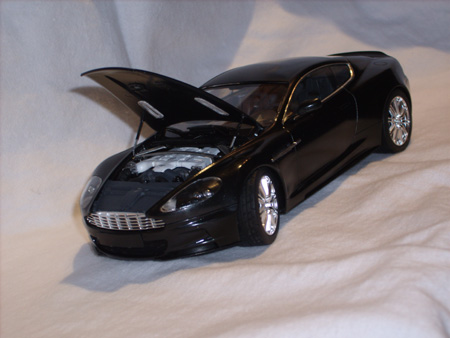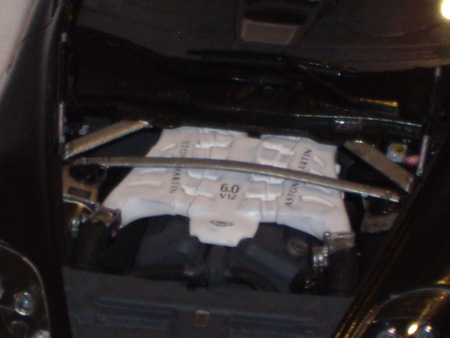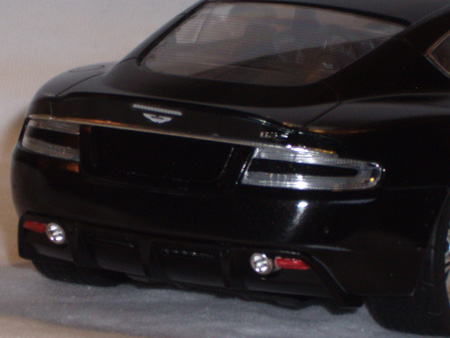 Below: 2005 Mitsubishi Lancer Evolution VIII.
Reader Lee from Kent writes: "The kit is an AMT Fast and the Furious 2005 Mitsubishi Lancer Evolution VIII that i picked up on Ebay.The body was two coat primered with Halfords grey automotive primer. When dried I light wet sanded it with 2000 grit wet & dry then gave it 3 coats of Ferrari red acrylic spray from Humbrol. This was then left for 5 days to dry and harden. I then added the decals and used black chrome bare metal foil around the window trims. I then gave the whole body 3 coats of Tamiya TS13 clear coat (windows excluded). The windows and headlight lens were dipped in Johnsons Pledge multi surface wax to hopefully protect from finger prints etc."
Lee, fantastic-looking model! Keep them coming.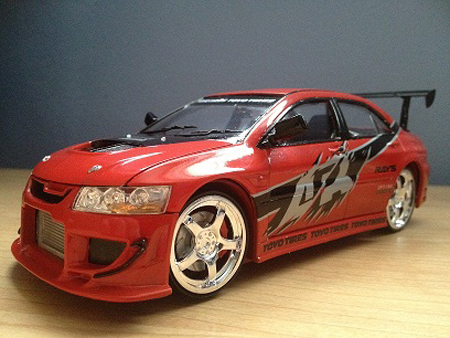 Below: AMT 1969 Yenko Camaro.
Reader Lee from Kent writes again: "Hi All. Thought i'd show you one that i recently finished.
An AMT 1969 Yenko Camaro from the movie '2 Fast 2 Furious'
sprayed with 2 coats of Halfords grey primer
3 coats of Tamiya TS 54
3 coats of Tamiya TS 13 clear
Wet sanded between primer, colour & clear using 2000 wet/dry. Window trims and logo's done with bright chrome BMF. Interior (no pic) black throughout
Hope its ok."
Lee, it's more than "OK", another great model!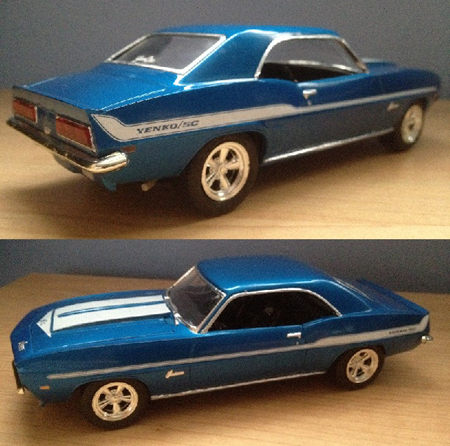 Below: Reader Mike M. from Livermore sends this photo of a modified Plymouth Barracuda, from the 1/25 AMT kit. "Was the hemi under glass; built a tube frame from scratch. Body is channeled over frame so it has a killer stance. Still wip."

Below: Reader Lee from Kent sends us this great-looking Beetle. "This is a Revell 1:25 VW Beetle Tuner Version. Method the same as previous models. Colour is Tamiya TS 25 with TS 13 over the top. Cheers...Lee"
Lee, fantastic work!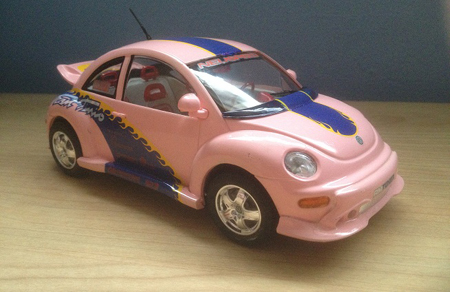 Below: Reader Mike from Pierceton sends us photos of this Bonnieville. "This is Trumpeters 1960 Pontiac Bonneville. I painted it Testors classic white to match the one my Parents had from 1966-69."
Mike, nice work on the model and great photos!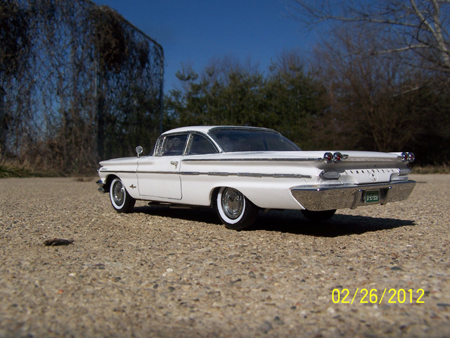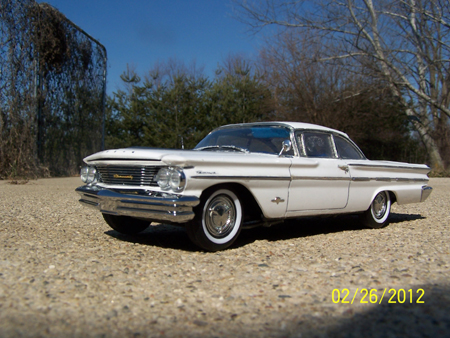 Below: Reader Mike from Pierceton sends us more photos. "This is Arii's '58 Eldorado Biaritz.I painted it Tamiya Pink. A well made model that's easy to build,other than a very fragile windshield frame (that I broke into three pieces & very carefully tried to put back together). I highly recommend this kit if your looking for a subject you don't find very often."
Mike, very eye-catching color and unusual subject!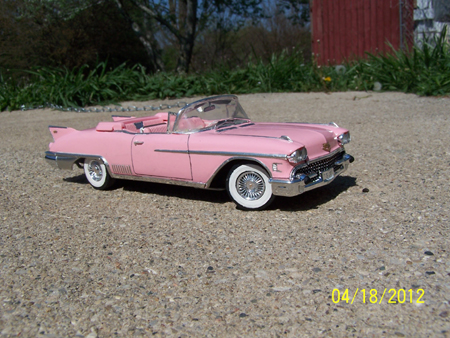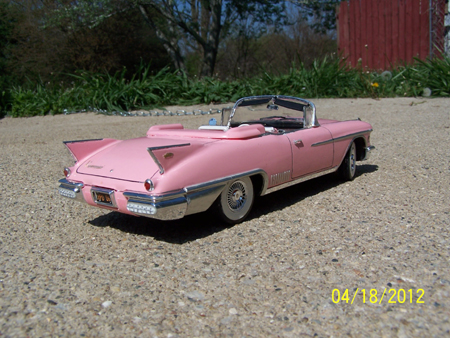 Below: Danny Albaugh sends us this great-looking '56 Chevy. "This is the Revell '56 Chevy Del Ray 1/25 kit with resin hood, chassis, an Arrowhead Aluminum Acessories pre-wired distributor, kit bashed-wheels and blower with dual 4's, baremetal foil and daytona yellow paint from MCW paints."
Danny, very nicely done, great yellow color!


Submit Your Photo using the Disqus Comments section below.
Send us your comments below! Login with your Facebook, Twitter, Google or Yahoo account.